What is no longer working? What will you do to free yourself?
For me, I haven't been doing a lot of blogging in the last year and a half. Maybe it's because I've been doing a live weekly show and within that I've been able to say my peace, maybe it's because of the Cardslingers Coast to Coast podcast where I am one third of a triumvirate of badass tarot readers (and all Fire signs to boot, we are not shy about our opinions!). I dunno.
What I do know is that I finally turned off commenting on my blog. And it's been more freeing than I thought it would be.
It's freeing because I'm now not writing to elicit comments. I'm writing because I enjoy it. I'm writing because my website is not a democracy. I mean, if you'd like to pay for my domain name and web hosting, maybe it would be different. But until then… I'm in charge!

So today's newsletter is an audience participation one, in the fact that I'm going to ask you to answer the following questions: in the space of your own heart, or by sending me an email.
What is no longer working for you?
What will you do to free yourself?
Maybe your answers will surprise you. Maybe they'll run the gamut of "setting boundaries" or "carving out time for myself" or even "we need to break up." They may be simple or complex. But they'll be yours. 
Deck of the Month
I need a little bit of fun. A little bit of cheerfulness. A deck that will make me smile. Hell, I need unicorns and crystals. Thankfully, I have the Crystal Unicorn Tarot by Pamela Chen, with illustrations by Lisa Higuchi… and that will be February's deck of the month for card of the day pulls. To find out more about the deck and to order, click here.
Tarot Intuitive students, past, present, and future… take note!
I am absolutely "zoomed" out. I have been living my entire life through the computer for both work and pleasure the last eleven months, and as of March 18th, I will have been working remotely from home for an entire year. I don't know… maybe you can relate?
Last year's cohort of the Tarot Intuitive online class had wrapped up about 2 weeks before the pandemic began in earnest in my neck of the woods. I was struggling to remember if I had even taught the class last year, I was in such a brain fog… but it was pre-pandemic.
This year? Well, I want to be able to give a new set of students my full attention, and I can't do that as quarantine life drags on. So, I am officially moving back the dates of this year's round of the Tarot Intuitive course to late spring/early summer. Current and past students will still have full access to me in the private Facebook group if you want to revisit lessons. New students… thank you for your patience, and I'll alert you when we are ready to enroll you (probably when the fashion trend is tanktops and not facemasks….)
Blessings,
~*~Hilary~*~
www.tarotbyhilary.com
hilary@tarotbyhilary.com
Book your reading here.
Schedule Appointment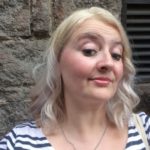 HILARY PARRY HAGGERTY is a tarot reader, witch, mentor, editor, and teacher. She has been reading tarot for over 21 years (13 years professionally). She was the winner of Theresa Reed's (The Tarot Lady) Tarot Apprentice contest in 2011, and has taught classes on tarot and spell-work at The Tarot School's annual tarot conference Readers Studio and at Brid's Closet Beltane Festival. She writes a weekly blog on tarot at her website www.tarotbyhilary.com and has been featured in Maxim Magazine and BuzzFeed.

If you found this article helpful, please share it with your friends using the handy-dandy buttons below. 
© Hilary Parry Haggerty | Tarot by Hilary
The post What is no longer working appeared first on Tarot by Hilary.
Read the original
Thanks to the Author: Hilary